The Ultimate Organic Vertical Planter System!
Would you believe me if I told you that you can grow up to 50 plants in just 4 square feet with almost zero maintenance… while comfortably sitting?
The Garden Tower Project is a great solution for growing vegetables in small spaces like your balcony, patio, or even indoors!
You can actually triple your gardening space growing vegetables vertically with this planter system. If you live in a city or in an area with limited access to organic fresh produce, this is the solution for you!
For more information, you can visit the Garden Tower Project site here.
What Is A Garden Tower And How Does It Work?
The Garden Tower is a rotating vertical container with a vermicompost column in the middle that allows you to grow organically up to 50 types of vegetables/plants.
This unit holds up to 6 cubic feet of potting soil. Thanks to its vermicompost system you can recycle your kitchen scraps and turn them into rich nutrient food for your vegetables, herbs, and flowers.
The column in the middle of the unit has holes that allow the worms to move through the entire tower. While moving around, the worms release nutrients to the plant's roots and allow air to flow.
With every watering, the nutrients pass from the top of the tower to the bottom and get collected in the bottom tray of the tower. This water is rich in nutrients (Leachate) and can be recycled endlessly.
The Garden Tower has 6 rings for a total capacity of growing up to 50 different plants. You can visit their website to know more about their recommendation growing plan. It's called "Salad tower" and gives you a recommendation of which plant should grow in the upper planting rings and which one in the lower rings.
How Big Is The Garden Tower?
This vertical planter is 43 inches tall and 24.5 inches wide. When filled with soil it can weigh up to 220 lbs.
Due to its size, you can grow practically anything, anywhere.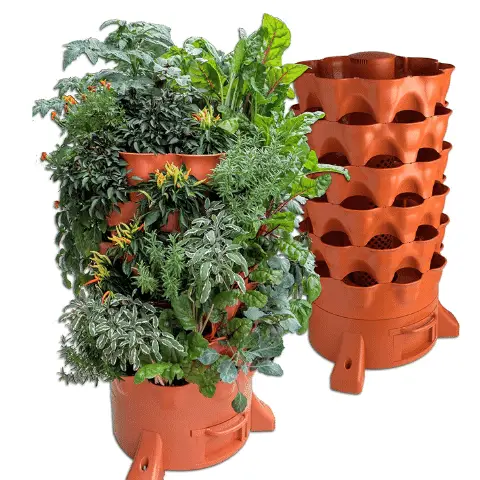 What Are The Benefits Of The Garden Tower?
There are so many benefits to growing your own vegetables with the Garden Tower!
Here are the main ones:
The Garden Tower planter is perfect for those who live in the city. It allows you to grow your own organic vegetables in very small spaces, even indoors (with the right lightening system).
Being a vertical planter, it triples your gardening space making it possible to grow many plants in a contained space.
It is a great solution for beginner gardeners. It is so simple that no previous gardening experience is needed!
The unit does not require any electricity
You can rotate the tower 360″
The Garden Tower allows you to maximase your waste and recycle your kitchen scraps.
The maintenance is very low, next to zero. No weeding required.
No need to use heavy pesticides which makes it environmentally friendly.
It is easily accessible, which makes it great for all ages, especially for elderly people. You can plant and harvest your crop while sitting comfortably!
You have total control of what you eat.
The unit is made of 100% USA made HDPE plastic which is very durable and good for growing organic food. Each unit has a 5 years guarantee and its life span is of about 12 years!
You can move the unit around. It is possible to purchase the bundle package with the wheels, making it ever more convenient.
You can save money on buying fresh organic produce!
Some of the links above are affiliate links, meaning at no additional cost to you, I will earn a commission if you click through and make a purchase.